Follow Us:
The Wildtronics Amplified Omni Microphone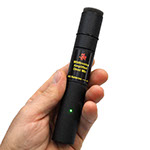 This amazing low noise omnidirectional microphone includes a built-in adjustable preamplifier!
Buy the Amplified Omni Microphone in our store here!
The built-in low noise preamplifier has several important advantages over standard microphones: 1) Boosting the signal level overcomes the noise of recording devices and long cables. 2) The output signal level can be perfectly adjusted for any type of recording device. 3) The batteries eliminate the need for phantom power or plug-in-power (PIP) incompatibilities. 4) The microphone can even directly power your headphones for stand alone use. Read more about the advantages of using built-in preamps here. The 3.5mm output connects to recorders, cameras, smart phones, power amps, headphones, and more (adapters may be needed). Bypass noisy preamps in low cost recorders to achieve professional quality results. The preamps provide -15 to >85dB of gain in 4dB steps with each push button press. Designed to perfectly fit the Wildtronics Pro Mini and All Purpose Parabolic Kits, or be used alone as a universal microphone. The Amplified Omni Microphone is a complete, very low noise solution in a rugged, machined aluminum housing. Includes a 6-foot, 3.5mm, detachable cable, batteries, and a windscreen.
Omnidirectional response, meaning it will pick up sounds from all directions. When used with our parabolic reflector kits, a highly directional response results.
Low noise microphone, 14dBA
Very low noise preamps with push button gain control.
Switchable low frequency filter reduces traffic rumble and wind noise.
Direct headphone output. Yes, you can directly use headphones!
Compatible with almost any recording device.
Fits our Pro Mini and All Purpose Parabolic Kits.
Switchable from dual mono to single mono output.
Works well with XLR inputs using Rode VXLR adapter.
Powered by two Lithium CR2 batteries, no phantom power needed.
110 hour battery life.
Quality industrial components are used throughout and PC board is conformal coated.
Rugged machined aluminum housing is powder coated and shields from EMI/RFI.
Weighs just 4 ounces with batteries installed.
Buy the Amplified Omni Microphone today by visiting our web store here.
The Amplified Omni Microphone will easily and directly mount into our All Purpose, and Pro Mini Parabolic Kits. These combinations offer professional level performance, with the added benefits of built-in preamps and a direct headphone output, at a low cost of just $378-$599. This is the clear choice for a best in class parabolic microphone system in the less than $800 price range. Above the $800 price range, there is not a better performing system available anywhere, than the Wildtronics Amplified Pro Mono or Amplified Pro Mono-Stereo Parabolic Microphones!
Let's talk about the preamps inside the Amplified Omni Microphone. The input noise specification, which is how all preamps are compared, is a very low -126dBA. The preamplifier noise contribution is so low that it can not be readily heard. The gain is conveniently set by two push buttons. You can step the gain, up or down, by 4dB per press or hold the button down for rapid gain changes. Once you find the gain you like, that setting is saved when you turn the mic off and on. The gain range starts at -15dB, which is actually attenuation. This setting allows loud sounds to be recorded with sensitive input devices such as smart phones and cameras. The upper gain range is over 85dB (X 20,000)-- way more than you will ever need. The battery life is over 110 hours, and about 65 hours when headphones are used. CR-2 lithium batteries are available for about $1 each.
A 150Hz low cut filter can be switched on to provide filtering of traffic rumble and wind noise. This low cut filter is properly located before any amplification. Much of the time, you can leave the filter turned on, since there is often not much useful audio below 150Hz.
The power switch has three positions. The center is off. When the switch is slid in either direction, the green power on LED will light. The green light also illuminates the switches in the dark. The forward position provides a dual mono output, meaning that the signal is on both the left and right channels of the 3.5mm stereo jack. This is the usual position for use with headphones or dual channel recording. The rearward position provides a mono output only on the left channel or tip. This position is useful when two microphones are used together in a stereo pair, or when connecting the microphone to XLR adapters. Read more about adapting this microphone to XLR equipment in the manual.
So, how does the Amplified Omni Microphone compare to our Micro Mic PIP and Amplified Pro Mono Parabolic Microphones? Unlike the Micro Mic PIP, the Amplified Omni does not require power from the recording device, or depend on the input impedance of the recording device. This means you will always obtain the full 14dBA noise figure with any device connected, unlike any PIP powered microphone which are all load sensitive. The internal preamplifiers of the Amplified Omni Microphone will allow you to adjust the output level to achieve maximum performance with any type of recording device. This allows you to overwhelm the noisy inputs of many recorders with a good, clean, higher level signal. The microphone in our Pro Mono Parabolic Microphone is lower noise yet, 4dB lower, with a higher signal output, and has the benefit of our exclusive Booster Plate technology as well, which can double the range. The Pro Mono microphone is better, best performing of any parabolic mic available if that is what you require, but costs more. However, excellent results can be obtained with the Amplified Omni Microphone in our Parabolic Kits, equal or better than any competing systems, and you can also use the Amplified Omni Microphone by itself. See our comparison videos illustrating the differences between our parabolic systems.
Buy the Amplified Omni Microphone in our store here!
Below are some sample sounds from the Amplified Omni Microphone.
Below is a comparison between a low noise, long shotgun microphone, a Pro Mini Parabolic and a Pro Mono Parabolic microphone. Even though the shotgun microphone is very low noise, the gain had to be cranked so much that the mic noise became apparent. The Pro Mini, paired with our Amplified Omni Microphone, has a slight performance improvement in both isolation and noise compared with the shotgun microphone at about half the cost, and doesn't need phantom power to operate. The Pro Mono Parabolic further improves subject isolation and noise that would be far more noticeable with more distant subjects, and is still lower in cost compared to the shotgun microphone. Lower cost shotgun microphones would have far worse performance, and higher cost shotgun microphones won't make much difference than the one used in the test.

Wildtronics Amplified Omni Microphone Instruction PDF Manual download here.
Read our Parabolic Microphone Selection Guide for short descriptions and a comparison table of all Wildtronics products.
Specifications:
Polar Pattern: Omnidirectional Frequency
Response: 20-20KHz
Maximum Input Sound Level at minimum gain: 135dB, 1Khz THD <3%
Signal to Noise Ratio: 80dB, Self Noise: 14dBA
Mic Sensitivity at 0dB gain: -37dB or 14mV/PA at 1kHz
Gain Range: -15dB to >85dB Gain change per step: 4dB
Preamp EIN (equivalent input noise): -126dBA
Maximum Undistorted Output Signal: +3dBu
Output impedance: 6.8 ohms
Headphone Drive: 30mW/channel
Output Connector: stereo 3.5mm jack
Switch Selectable Output: Dual Mono, Mono
3.5mm Connector Wiring: Tip= left, Ring= right, Shield= ground
Filter Switch: Flat or 150Hz low cut, 6dB/octave
Weight: 3oz, 4oz with batteries installed
Dimensions: 25.4x152mm (1.0x6.0 inches)
Batteries: 2-CR2 3-Volt Lithium
Battery Life: 65 hours with headphones, 110 hours without headphone use
Power Off, Standby Battery Life: up to 3.5 years
Microphone Housing: machined aluminum, powder coat finish
Type of Microphone Element: permanently charged condenser
Power On LED: green, visible in sunlight
Safe from accidental Phantom Power application when used with XLR adapters and XLR equipment
Made in the USA, CE compliant.
To hear the latest updates, like us on Facebook, or Subscribe to our Email Newsletter.