Follow Us:
Wildtronics Professional Universal Parabolic
SALE ON NOW, Save $50 on Universal Parabolic Kit!
Obtain the benefits of our Pro Series parabolas using your own preferred microphone.
The Wildtronics Universal Parabolic Kit will allow you to securely mount your own microphone into our parabolic dish system. This is for professionals who prefer to use their existing omni-directional microphone in our advanced parabolic systems. Our parabolic system can extend the range of your subject about 10 times compared to a standard microphone. For units that include microphones, see our Mono and Mono-Stereo models. This new, original design combines multiple techniques to increase audio gain, broaden the frequency response, improve isolation of the subject, and minimize handling noise. Use parabolic microphones for sound reinforcement on football and baseball fields, recording birds and nature sounds, wildlife research, law enforcement, paranormal investigation, or anytime sounds need to be amplified and isolated beyond the capabilities of other microphones.
Allows you to securely mount most cylindrical Omni-Directional Microphones. A microphone with a 10dBA noise floor is required to yield results similar to our models that include microphones. See below for recommended microphones.
A lightweight, 22-inch, clear polycarbonate, highly accurate parabolic dish. The dish is flexible, yet rigid enough to maintain critical shape, and thick enough for good rear sound isolation. Polycarbonate is a virtually unbreakable plastic that can withstand temperature extremes. Available in the Standard 0.060 inch thick or the Feather Light 0.030 inch thick rollable version.
Patent pending integral Booster Discs increase the gain to that of a 30-inch dish. This technology also improves low frequency response by eliminating the well known "bass dip" phenomenon, achieving superior sound quality. All competing parabolic microphones have a distinctive bass response dip (500-1000Hz), with accompanying peaks and dips at higher frequencies, causing a tinny sound.
Your microphone is mounted in the correct, inward-facing orientation to obtain maximum signal gain and frequency response.
Easily and visually adjust the microphone to the parabolic focal point or defocus if needed. Competing universal parabolas leave you guessing to find and maintain the perfect focus.
Weighing just 2 lbs 7 oz (1 lb 15 oz w/ Feather Light Dish), the lightweight unit very quickly assembles and disassembles into just three major components, with all captive hardware, for ease of transport and travel. The dish is flexible so that it may be "rolled" to fit into luggage and carrying cases.
A foam suspension system reduces handling noise and dampens the dish. The suspension system is a carefully thought out design that isolates major components, and not only a cushioned hand grip. Nothing makes any creaking sounds when the unit is moved during use.
An accessory mounting provision on the handle, allows adding our accessory bar kits that can greatly increase versatility by being able to directly mount recorders, cameras, transmitters, etc.
The ability to add our Secondary Windscreen accessory, which allows use in winds up to 20MPH, while still maintaining a clear view through the dish to target your subjects.
Built-in, metal 1/4-20 threads in the base of the handle allows solid, reliable, and easy mounting of the Parabolic Microphone to a tripod and use of our Accessory Bar-1 Kit in creative ways.
Buy the Wildtronics Universal Parabolic Kit from our web store HERE.
Read our Parabolic Microphone Selection Guide for short descriptions and a comparison table of all Wildtronics products.
Most microphones will fit into the Wildtronics Universal Parabola, as long as they are 18-26mm in diameter, and 50-188mm (best if under 155mm) in length. Adapter sleeves are included to fit the above diameter range. For a list of recommended microphones, see the table below. For comparison, the microphone inside the Wildtronics Mono Parabolic Microphone has a noise floor of 10dBA. Only omni-directional microphones are recommended, because omni-directional microphones have a wide enough polar response to capture the entire dish sound reflection. Using a cardioid microphone will result in decreased frequency response and parabolic gain, and due to the additional protrusion, will most likely not be able to make use of the included foam windscreen.
The table below lists omni-directional microphones that are recommended, due to their lower self noise. The microphones shaded in yellow are the most recommended, with the MKH8020 being ideal due to it's short length. Also noted in the table is whether or not the Secondary Windscreen accessory will fit. Some microphones are too long to use the Secondary Windscreen. This is not an all inclusive list, just suggestions of some common professional microphones. See the manual for details. To learn more about the listed microphones visit the manufacturers: Sennheiser, Audio Technica, DPA, Neumann, and AKG.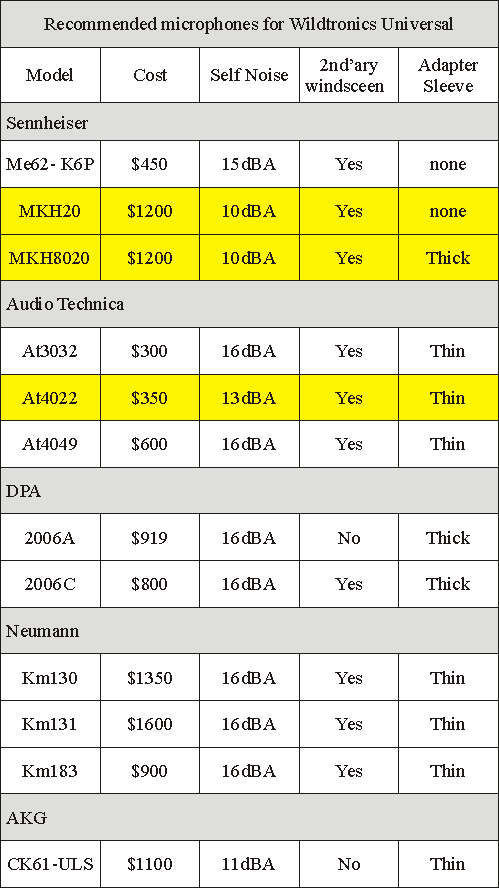 The microphone is securely clamped into a plastic holder with non-marring thumbscrews. The foam windscreen is easily removed for visually setting the microphone at the parabolic focal point. Then, the windscreen is popped back into it's retainer. The microphone may also be unfocused if desired.
Once the microphone is installed, a special short XLR cable connects your microphone to the front plate, where a hidden shielded cable is passed to the XLR conveniently located on the back panel. Therefore, no long, dangling cables need to be routed around the dish. All the connectors are locking Neutrik connectors. The short XLR cable is a custom 90 degree shorty XLR to reduce the projecting cable length. The other end of the small diameter Mogami microphone cable attaches to the front plate with a TA3 (mini XLR connector). The flat end of the shorty RA XLR also allows for the use of our Secondary Windscreen. The Secondary Windscreen, available as an accessory, can extend usability in winds up to 20MPH, plus it maintains a clear view through the dish. Microphones over 155mm are not recommended with the Secondary Windscreen.
An integral booster disc is designed into the microphone holder to increase the audio gain and boost low frequency response to that of a 30-inch parabolic dish. The booster disc also helps isolate the sound pickup to only the focused target and avoid other stray sounds. This amazing booster disc technology further sets the Wildtronics Professional Parabolic Microphones apart from all others.
The large, 22-inch, parabolic dish is optimally sized to balance portability and low frequency response. The dish is clear so you may accurately sight your target, even with the Secondary Windscreen installed. The paraboloid was accurately CNC machined to create a master mold. This accuracy is necessary for precision focus at higher frequencies. The microphone assembly, with your microphone, is easily removed and reinstalled without altering your preset focus. The molded plastic Standard dish is 0.060-inch thick polycarbonate for best all around durability, critical shape retention, and allows some bending to fit into larger airline luggage. Also available is the Feather Light 0.030 inch thick polycarbonate dish that can roll into a 6 inch diameter for easy transporting, and will drop the weight of the microphone by 8 ounces. For more information on the parabolic dish types available, see our parabolic dishes for sale page.
The lightweight aluminum alloy parts are powder coated for durability. A black, low reflectivity finish is used throughout to increase stealth. Optional Accessory Bar-1 Kit and Mini Accessory Bar Kit are available that allow versatile mounting of additional equipment. With the Accessory Bar-1 Kit, you can mount cameras, tripods, recorders, preamps, wireless transmitters, and install the included dual handles that give improved comfort and superb balance. The Mini Bar Kit allows mounting a hand-held recorder directly to the handle, and uses just one short cable.
The Wildtronics family of microphones were developed by Bruce Rutkoski, who has professionally recorded nature sounds for over a dozen years and originated new recording techniques, in addition to an electronic and mechanical engineering background. Bruce's recordings are available through Natureguy Studio in CD and MP3 formats.
For technical information about parabolic microphones, recording, and audio noise; see our Articles section in the pull-down menus at the top of the page.
Buy the Wildtronics Pro Universal Parabolic Kit from our web store HERE.
Pro Universal Parabolic Kit Microphone selection guide.
The Pro Universal Parabolic Kit 2015 Manual